Chuck C. 
 December 6, 1936-January 31, 2011
It is with great sadness we mourn the passing of our oldest team member, Chuck. He joined the team with his dog Ana in November of 2006 and helped formulate ideas as we incorporated the team.
But Chuck was more than just a good dog handler. He helped wherever and whenever it was needed. He used his PhD in physics from Notre Dame to tutor some of the younger team members in calculus and physics. After looking at one returned test grade, it took a good bit of talking to keep Chuck from exercising Anna's protection training on the professor. The adult handlers would look over at Chuck patiently working someone through a long problem and shudder. Chuck on the other hand had a happy smile and the same focused intensity he brought to handling his dog.
Chuck was a self-taught expert in the field of holistic medicine. More than once he offered great advice on remedies for ailing dogs and handlers. He was in the process of developing a holistic dog food that had been shown to shrink tumors in canines at the time of his death.
His illness was a surprise to all of us, even Chuck and he fought valiantly to beat the grime reaper, but God had decided it was time to call Chuck home. While we will miss him, we all visualize him going from the schutzhund field to search and rescue  with all his tireless friends that waited on the other side of the rainbow bridge with the occasional time out to cheer on the "Fighting Irish".
Sherri G.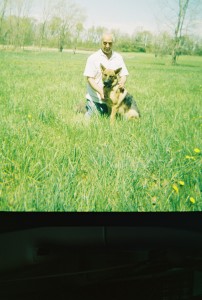 "Afterglow"
I'd like the memory of me to be a happy one,
I'd like to leave an afterglow of smiles when life is done
I'd like to leave an echo whisperong softly down the ways,
Of happy times and laughing times and bright sunny days.
I'd like the tears of those who grieve,
to dry before the sun of happy memories that I leave when life is done.