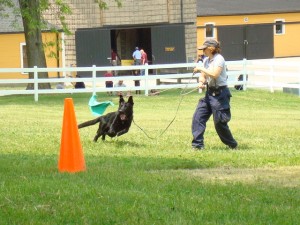 German Shepherd Search and Rescue Dog Association (GSSARDA) was honored to be invited to demonstrate at the St. James Farm Family Field Days in Warrenville Illinois on May 26, 2012. The weather was great and over 4,000 people attended to see demonstrations by falcons, horses, and dogs. The entire team was in attendance along with a volunteer, Samantha. The team put on two demonstrations, one in the morning and a second in the afternoon.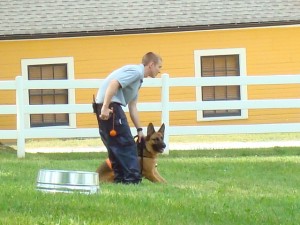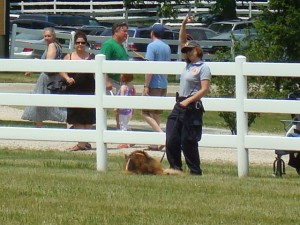 At the first demonstration, Jim was the MC and explained each demonstration as it was performed. Orex demonstrated play drive. The crowd roared and applauded when he ripped the cloth from the whip. Belle demonstrated Bark alert, obedience and tracking. She did a nice job, scenting from a glasses case and finding a credit card and a used shotgun shell. Rosie did an excellent recall/re-find and even demonstrated alerting to HRD. This is especially impressive since she only started on the scent a couple of weeks before the demonstration. Retired Lektor had a blast showing the youngsters how doggy baseball is played.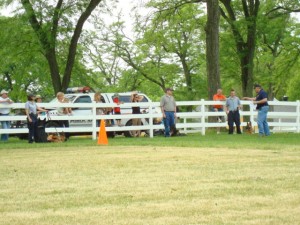 The group returned to the booth where a raffle was held and people were having their pictures taken wearing SAR helmets and packs with the dog of their choice. A diesel vehicle was pressed into service to cool the dogs as the temperature continued to rise.
Bill MC'd at the second demonstration and Amanda handled Koda. Koda demonstrated play drive and bark alert. Rosie once again turned in a stellar performance as did Belle and Lektor. Sam handled Orex while the other dogs worked. Jim stayed back at the booth to watch over the activities there.
It was an fun and interesting day at a gorgeous facility. It is definitely a place to visit on a fine summer day.