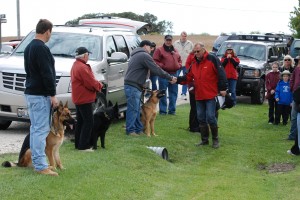 The team is pleased to announce two members added titles to their dogs. Wayne and Vello made their first attempt for a Schutzhund 1 title and Shane and Rosie trialed for the Begleitenhund at the Prairie State Dog Club on September 25, 2010 under SV Judge, Gunther Muellegger.
Wayne and Vello earned their Schutzhund 1 in spectacular form with a very impressive protection round and a 96 in tracking. They scored  96/91/94 for a toal 281, high enough to win high handler, owner, trainer title. A score of 270 will allow a dog to enter nationals and the judge said he hoped to see them there.
The Prairie State trial was a first for both Shane and Rosie. They did a wonderful job earning their Begleitenhund title like trial veterans. Judge Mueller encouraged them to go forward for their Schutzhund 1. Shane will consider it after completing his engineering degree.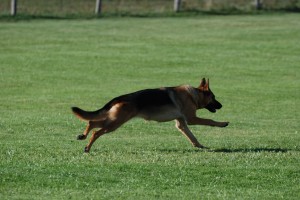 We congratulate these handlers and their handler/owner/trainer dogs on this success.