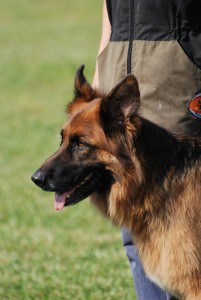 I've met some nice people in schutzhund, but I have to say the folks at O.G. Edgerton Schutzhund Club were some of the nicest. Generally when you are the visitor at a club you go last in the rotation, but the folks at Edgerton realized I was driving almost 3 hours one way to train for the trial and always lit me go first so I could get back on the road home. The food at the trial was excellent and the weather perfect. I have to admit I had concerns about the weather which is reasonable when you talk about a November trial in Wisconsin. The judge truly wished to encourage people in the sport and answered endless questions before we started.
All the pictures in this post are from another trial. Guess who forgot her camera?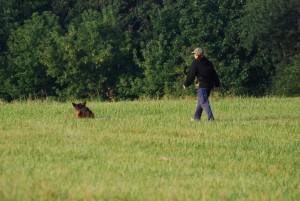 Belle's tracking made me proud with a dash of heart failure on the first leg . She is a steady methodical dog and her article indications are pretty. We were the first dog to perform in each event which had a lot of advantages for the handlers nerves. The disadvantage happened on the obedience. Belle had enjoyed a nice nap after tracking and didn't really wake up until we were more than half way through the obedience event. It had to be one of her most lackluster performances I've ever seen in obedience. She did everything correctly so we squeaked by but I expected her to yawn and lay down any minute through out the event.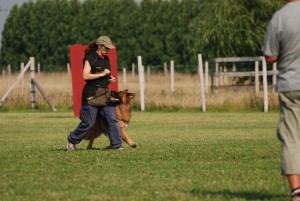 When it came to protection I had enough sense to get her warmed up before we went on the field. She did a nice job on the empty blind, bark and hold, escape, courage test and side transport. Her outs were clean and fast. The judge liked her and gave a nice score, his one comment was she didn't really intimidate. My husband described it best, "It's hard to be intimidated when you're being attacked by a muppet." Ahh the down side of owning a long coated shepherd. She will always look too cuddly to be scary, but since her primary purpose is search and rescue I don't mind.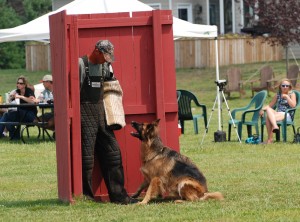 I love Belle's quiet determination. It is a real mental exercise to switch between her and Lektor aka "bulldozer". As a handler you have act and respond so differently to best utilize the dog's personality, but that's how different dogs make a person a better handler. Belle did a wonderful job and she gave me something more. Trials have always made me nervous and have not been a pleasant experience, but thanks to Belle I intend to become more active in schutzhund and actually work toward competing at larger trials.