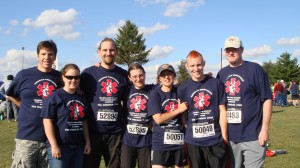 What do you get when you put a search and rescue team
together with 3.08 miles of mud pits, cargo nets, flames and a bunch of other
obstacles? Lots of fun, funds and team building.
It all started when Liz asked about the 3 mile in 30 minute run handlers must do to qualify. She asked if she could do the Warrior Dash instead. Shane took one look at the website and made the same request. Not to be out done Bill, Amanda, Mike and Sherri all decided they were up for the challenge. That is when the idea came to run the Warrior Dash as a fund-raiser, much like a walk-a-thon. Team member went out asking for sponsors and the support was tremendous. Altogether, $562 was pledged, much of it paid in advance of the race.
Team members hurried to sign up. Unfortunately, the roster filled before Bill and Amanda could register. Still being team players they
helped with the fund-raising and on the day of the race arrived to hold wallets and cheer on the runners.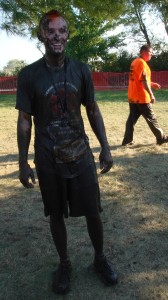 The question remained; was possible for a team member to run the 5K distance and complete all the obstacles in 30 minutes. Shane, a 5K
veteran, volunteered to find out and took off from the start at a good clip. He had been psyched to conquer the mud pit and did some decorative shaving and dying of his hair so we could find him at the finish. It was the last obstacle and he dove in to swim it with a determined crawl stroke and finishing the race in 28 minutes.
Liz, Mike, and Brian had been training to run the distance but their previous experience had all been sprints. Sherri set out running at a 10 minute-mile speed so the others could get the feel for the pace. The team stayed together shouting encouragement to each other as they conquered the obstacles.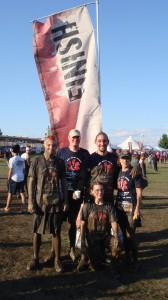 They jumped the flames together and even ended up on the Warrior Dash Facebook page, climbing out of the mud pit. They finished as a group in 41 minutes.
After the race the team was hosed down by friendly
firefighters with very cold water. After changing into dry clothes and shoes the members donated the shoes they ran in to be either given to people who needed shoes or recycled into playground mats,
and headed to the concession
stand. The food for the day was roasted turkey drumsticks.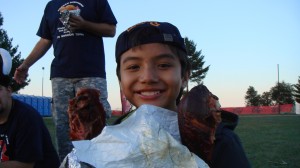 It was a great team
building activity and everyone agreed to run it again next year.