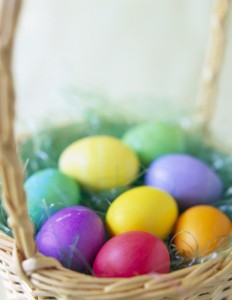 Every kid loves Easter morning when they wake up and find an Easter basket packed with goodies and a maze of hidden eggs with little prizes inside.  Why not include your dogs in the celebrations by having an Easter egg hunt for them too?
This is not just an activity to make us humans go 'awwww', this is an activity that can be very satisfying to the dog as well.  They must work through a problem using their nose,  and receive tasty rewards for their efforts. If you want to test your dog's nose, or begin to play with scent work, this is a way that would be great to involve the whole family.
Many plastic Easter eggs in the stores have little holes in them, this is perfect for letting a tantalizing scent out for the dogs to hone in on. When you are ready to fill them, make sure you use a treat that had a strong odor, hotdogs and boiled chicken will also work great for this.  Hide the eggs inside or outside the house and let them sit for 15-30 minutes for the scents to build up in the hiding locations.  Bring the dogs out and help them to find the first few eggs until they get the hang of the game.  I keep mine on leash so that I can easily supervise them, and help them open up the plastic egg, then remove the egg from the game.
Please remember not to do this at the same time as your children's egg hunt where the eggs contain chocolate.  Also supervise the dogs throughout this activity to ensure that when they find an egg they don't eat it trying to get it open.
In no time your dog will be demonstrating one of their most amazing capabilities while partaking in holiday celebrations.