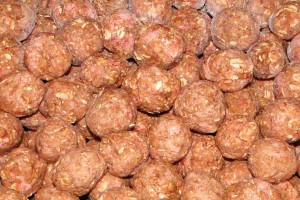 If you have a dog that just doesn't seem to hold its weight, is a picky eater, or has just experienced an illness that left it weakened, making satin balls for your dog can help bring him back to optimal condition.  I have a great dane that frequently fell to illness in her first year, and at 2 years old cannot maintain her target weight.  In all of these situations I used satin balls to help her recover as it was the only thing she would be interested in eating.  Currently she gets 3 satin balls a day with her normal meals to keep her weight stable.
This recipe is designed to put weight on fast, and to be very good for making their coat shiny and soft.  It is high in calories to give them an energy boost that is much needed in times of stress. And most important of all – they are extremely palatable.  These are not a substitute for a nutritionally balanced diet for your dog, but they can be added daily as a supplement and make great treats for training. 
There are three batch sizes listed below to choose from depending on the size of dog and quantity desired.  These hold up well in a freezer in zip-lock bags, just freeze them in a single layer on a baking sheet before bagging them up.  You can then take out the number needed and defrost them.  Just mix all ingredients together and form them into small balls – no cooking required.  Remember to make each satin ball small, about an inch in diameter, and be sparing in the amount you feed, as it doesn't take many to get the job done!
Satin Balls for Little Dogs — or to try out recipe on your dog to see if he will eat it.
1 lb cheap hamburger (for high fat %)
1 and 1/3 cups Total cereal
1 and 1/2 cups uncooked oatmeal
1 raw egg
6 Tablespoons wheat germ
1 package Knox unflavored gelatin
2 Tablespoons vegetable oil
2 Tablespoons unsulfured molasses
Pinch of salt
Satin Balls Half Recipe
5 lbs cheap hamburger (for high fat %)
1/2 large box Total cereal (about 6 cups cereal)
1/2 large box uncooked oatmeal (about 7.5 cups oats)
5 raw eggs
1/2 of 15oz jar wheat germ (about 2 cups)
5 packages Knox unflavored gelatin
5/8 cup vegetable oil (this is pretty close to 2/3 cup)
5/8 cup unsulfured molasses
Pinch of salt
Satin Balls Full Recipe
10 lbs cheap hamburger (high fat %)
1 large box Total cereal (about 12 cups cereal)
1 large box uncooked oatmeal (about 15 cups oats)
10 raw eggs
1 15oz jar wheat germ
10 packages Knox unflavored gelatin
1 and 1/4 cup vegetable oil