Team Members Go the Extra Mile – Warrior Dash Fund-Raiser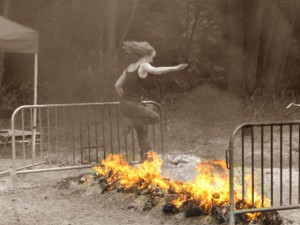 You've heard of walkathons, Walk For The Cure and other walking and running activities to support charity. The members of German Shepherd Search and Rescue Dog Association have decided to put in some extra effort and participate in the Upper Midwest Warrior Dash on September 17, 2011 to raise funds for the team.
The Warrior Dash is a 3 mile race through 12 hellish and muddy obstacles.   We will be running as a team to raise funds for training and pay the expense to search for lost persons.
How can you help?
You can sponsor any member of the team per obstacle they complete or a set donation.  After the race you will be contacted with the number of obstacle that were completed and to collect your donation.  All contributions are tax-deductible.
Suggested Sponsorship Levels:
BRONZE – $1/obstacle x 12 = $12
SILVER – $2/obstacle x 12 = $24
GOLD – $3/obstacle x = $36
Warrior Dash Obstacles
Would you rather sponsor all the team members for a single obstacle for $10?  Pick from the following obstacles the team members must accomplish to finish the race:
Black Forest – Run through the unmarked woods
Great Warrior Wall – Conquer the wooden barricade
Tunnels of Fear – Burrow through black tunnels
Hay Feaver – Hustle up and over giant straw bales
Junkyard Jump – Stampede through the scrap yard
Deadweight Drifter – Trudge through waist deep water, climbing over submerged logs
Knee High Hell – Speed through hundreds of tires
Cargo Climb – Maneuver over the cargo nets
LumberJacked – Cross over and under the staggering logs
Black out – Dive into darkness and escape the trenches
Muddy Mayhem – Scramble beneath barbed wire as you near the finish line
Warrior Roast – Leap over the warrior flames
Come join our team or cheer us on as we get soaked and filthy climbing over cargo nets, through muddy swamps, and under barbed wire! We are leaving the dogs home to keep them safe, the humans are crazy enough to sign up for this kind of physical abuse.
Team Members Entering the Warrior Dash
Feel free to sponsor any or all of the team members
Sherri – mid-50's, female handler, engineering consultant
Shane – early 20's, male handler, college student
Michael – late 20's, male support member, IT tech
Liz – mid-20's, female handler, IT tech consultant
Brian – early 30's, male support member, IT tech
Bill – late 40's, male handler, private air-craft consultant
Amanda – mid 20's, female support member, Tae Kwando instructor
Christopher Ramirez – Early 30's, US Army
How the Warrior Dash Funds Will Be Used
It costs about $10,000 to transport, feed and house a team for a week long search. Additionally the team must carry insurance to utilize training locations. No one on the team receives a salary. All funds will be applied to the cost of training, searches, and demonstrations to benefit the community.
Any and all support is appreciated.