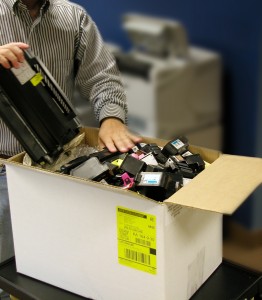 GSSARDA-IL is participating in a fundraising program which collects empty printer cartridges and used cell phones to raise much needed funding.  Help us raise money and help save the environment by donating your used inkjet and laser printer cartridges!
We are collecting:
– Empty inkjet cartridges
– Empty laser cartridges
– Used cell phones
Participating in our program helps protect the environment by keeping these recyclable items out of landfills and preserving our natural resources.
All proceeds benefit the German Shepherd Search & Rescue Dog Association by funding training and search operations.
Recycling takes 5 minutes or less and allows you to help at no extra cost.
With your help we will be able to maintain highly trained and qualified volunteers and dogs to rescue lost persons.
Beyşehir How can you participate?
– Start saving your empty cartridges at home and return them to GSSARDA-IL member or a designated drop location (more coming soon – check back!)
– Spread the word to your family and friends to recycle too!
– Businesses can help too by getting a FREE affiliate account and sending in your recyclables to benefit GSSARDA-IL (contact us for more information)
http://hometownheroesrun.com/contact Drop Box Locations:
Caribou Coffee
375 North Milwaukee
Vernon Hills, IL 60061
Or drop them off at one of the following events:
Ruff N It Day
September 18th 2011
10am – 1pm
Greene Valley Forest Preserve
Naperville, IL
Dont forget to also check out how to support us through the Warrior Dash fundraiser coming up on September 19th 2011
http://gssarda-il.org/featured/dash-for-cash-gssarda-to-run-the-warrior-dash.htm
How funds from recycling will be used:
It costs about $10,000 to transport, feed and house a team
for a week long search. Additionally the team must carry insurance to utilize
training locations. No one on the team receives a salary. All funds will be
applied to the cost of training, searches, and demonstrations to benefit the
community.
Any and all support is appreciated.