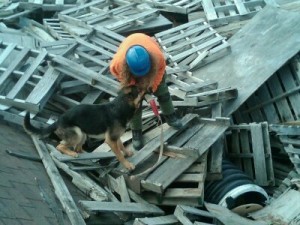 Susan and No Nonsense Gryphon had a busy year racking up his
Begleitenhund title, his IRO Rubble A title, and his NIMS  Type 1 USAR certification through IPWDA.
First the Begleitenhund
Gryphon, handled by a nervous Susan earned his Begleitenhund title on June 17, 2011 at the mid-Ohio Schutzhund Club. Weather conditions were not ideal – it was pouring rain. Past experience had not been kind to Susan. The last time She had handled a dog for the BH, was several years earlier at a different club, with her young Doberman. That had been her first schutzhund trial and her dog was on the long down. The working canine ran to her dog, bothering it and tried to chase it off the field. After that experience Susan was not comfortable but knew the team requirements and gamely took the field with her German Shepherd partner. No Nonsense Gryphon, ignored his handler's jitters and turned in a splendid performance under judge Frank
Phillips, demonstrating he had been well named.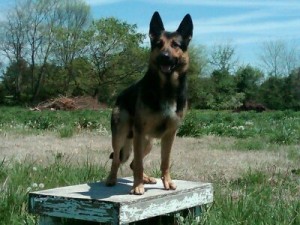 Second IRO Rubble A
Two months later, on August 20, 2011, Susan and Gryphon travelled to Virginia. While the weather was dry, the temperatures soared to 95 degrees. Once again Gryphon proved his endurance and abilities earning the title IRO Rubble A under judge Resi Geritson.
Third NIMS Type 1 USAR
Finally on October 11, 2011 Susan and Gryphon got perfect weather to test. The International Police Work Dog Association(IPWDA) tested dogs and handlers to the National Incident Management System (NIMS) Type 1 Urban Search And Rescue (USAR) standard in Indiana. Gryphon demonstrated all the hard work and consistent training Susan had given him was justified and walked away with his Type 1 certification.
We can't wait to see what these two will do in 2012.