Wilderness Testing
On November 19th the testing started. Originally the
evaluations were to be in September but getting outside evaluators turned into
a serious problem and delayed testing for two months. The original test was to
be to Search and Rescue Dogs US (SARDUS) standards, however, when it became
clear evaluators were not going to be available, the switch was made to
American Rescue Dog Association  (ARDA)
standards. Dogs and handlers were tested on trail hasties, dense brush, open
field and night searches.
Eventually, Tom Couch of N.C. C.E.R.T. and Sherri Gallagher
performed the evaluations with Tom acting as lead evaluator since Sherri was a
member of GSSARDA.
Both handlers had already passed the field navigation
testing in the Spring but the evaluators were not about to let them off that
easily. Throughout the problems they had to demonstrate to the evaluators their
location on the topographical map. Both did an excellent job.
The Set Up
A forest preserve in Lake County was used for the testing as
well as private property for the night test. While both handlers had searched
in the area before, subjects were placed in a section that had not been used
for training due to coyote activity.
The team owes a big thanks to Troop 198 out of St. Andrews
in Mundelein for providing subjects the dogs had never met. The scouts arrived
at sunrise and were placed by the evaluators an hour before the first dog and
handler. They stayed in place for the next 6 hours in 40 degree temps, a cold wind
and overcast skies.
Order of Testing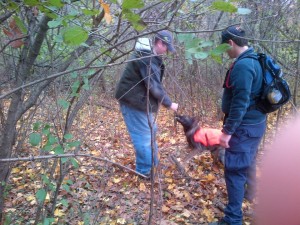 Handlers were directed to perform a trail hasty search first
with a given scenario. If performed correctly, the handlers would find the
first subjects and receive a clue as to the location of the second set. Both
did an excellent job, Rosie found a clue that helped direct the search  and Bill did a wonderful job of setting up
his search to best utilize his dog's abilities.
Both successfully found the trail hasty subjects. Dogs and
handlers were not given a break but directed to immediately begin the sector
searching starting with dense brush. Both dogs crashed merrily through thorns
and brambles to locate the next set of subjects.
Having finished the daytime testing, everyone took a break
for supper, although Bill and Shane didn't seem to eat much. As darkness fell,
cloud cover took over and the threat of rain became spats of drops. Evaluators
placed subjects for the night problems and both dogs did an excellent job of
finding the subject and alerting. The last dog and handler finished just as a
downpour began.
Results
It was a very long day. Congratulations to Bill and Koda and
Shane and Rosie operational wilderness search and rescue dogs.