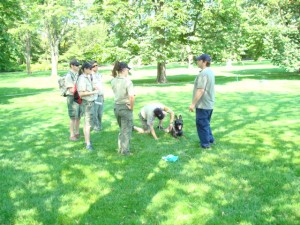 On May 19th, the team participated in the Scout-O-Rama at Cantigny Park in Winfield, IL. Over 4,000 Scouts were in attendance. Set up had to be completed by 8:30 AM and finish time was 4:30 PM. It was an "all hands on deck" kind of day. Mike, Shane and Rosie, Sherri and Lektor, Belle and Orex, and Bill and Koda set up tents, displays, and books to sell. As well as dog crates and food for the team. Amanda joined the group after she finished working  and the team took a short break to celebrate her birthday.
Temperatures soared into the low 90's making it difficult for the dogs who had not yet shed out their winter coats. Between dogs and handlers, almost 6 gallons of water was consumed. Koda stepped up and spent lots of time doing demonstrations and interacting with the scouts.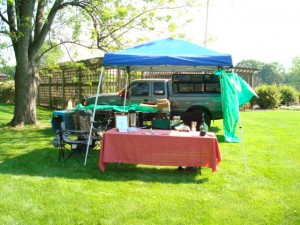 The team was given the choice of  two different sites. After evaluating both locations Bill and Koda, and Orex and Sherri went to collect the sign from the second site. Orex ran back the width of the park carrying the sign and drawing lots of attention.
Later that day Mike took Belle to play in the fountain. She had lots of fun pouncing on the water spouts and the Scouts were left in giggles from her antics.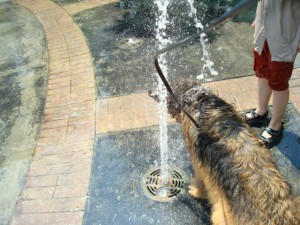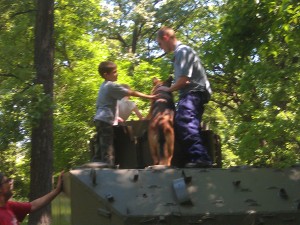 Shane walked Rosie around and had the opportunity to take her picture on a WWII tank.
The team demonstrated play drive, bark alert, recall re-find alert, obedience, HRD detection and doggy baseball.
The following week at a demonstrating, several attendees recognized Koda from Scout-O-Rama and came up for dog kisses. Koda was happy to oblige.