At was a miserable day for a trial. At 7 AM when we started tracking the temperature had already hit 80 degrees and rising. There hadn't been a drop of rain in weeks. Top it off we had spent the last month enjoying the cool breezes of the Adirondack Mountains with highs in the 60's and 70's. It would be a long hard day for my dogs.
Lektor did his typical drive through the tracking and obedience. We had one score left to earn him the right to claim "multiple schutzhund 3".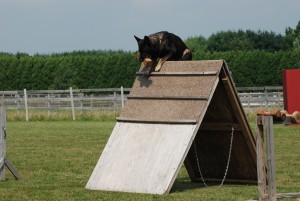 Luck of the draw, Lektor had the honor of being the last dog to perform. Several dogs were aggrevated by the heat and turned in unusually poor protection performances. I've no idea where the mercury hovered by the time we took the field. We walked on the field and Lektor got the scent of the helper in blind 6, clearly he knew where he wanted to go. The judge came out and gave detailed instructions, in German. Finally I flagged the translator and after a few minutes more we started.
My nine year old dog exploded into a dead run at the "revire".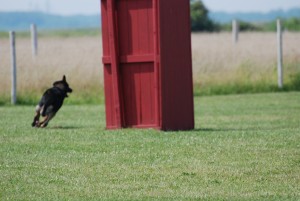 He finally had the freedom to do what he wanted. He ran all 6 blinds beautifully even though he made it clear to me he knew where the helper hid. The bark and hold, call out and escape were impressive.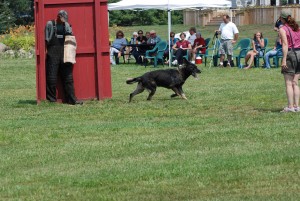 The back transport is one area we work constantly as he likes to anticipate. This one showed all the work had paid off.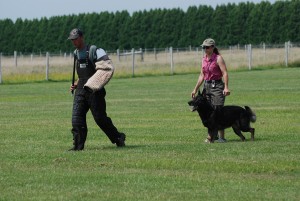 The courage test and the side transport ended the fun and Lektor had his multiple schutzhund 3 claim. When the judge gave the score of "97" high protection for the trial, I decided to retire my big guy from schutzhund on the spot. He gave me every ounce of strength, skill and control he had and I don't want to see him hurt. He continues in search and rescue and we still go out to the club for some fun time training and he will still stand stud for a little while longer, but his days of competition are over. Long live the king.