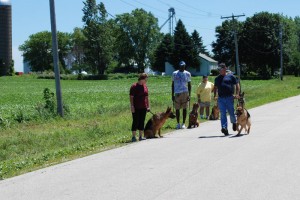 On Saturday, June 19, 2010 at the Prairie State Dog Club Trials Vello, handled by Wayne, turned in an excellent performance under SV judge Greg Estnest. The temperatures were in the upper 70's with a nice breeze and plenty of sunshine.
The on and off lead heel exercises, long down and sit on a notion and down on a motion came off without a hitch. The recall was pretty to watch.
Vello went on to the temperament test and led the way, being the first dog in all the exercises. Vello calmly ignore a crowd, joggers, cyclists and more than a few cars. As a dog friendly test, the judge had each handler jog by the four other dogs trialing for the BH that day with all dogs on a loose lead. Vello handled it like a champ, ignoring the dogs he ran by and those that ran by him. The loud noises and approach of a stranger were just another common occurrence to Vello.
Congratulations To Wayne and Vello for an excellent performance and the title of Begleitenhund.